KIOXIA Launches New Consumer SSD delivering PCIe® 4.0 Performance for Mainstream Users
Compatible with PCIe® 4.0 and delivers exceptional transfer speeds
September 25, 2023
Kioxia Singapore Pte Ltd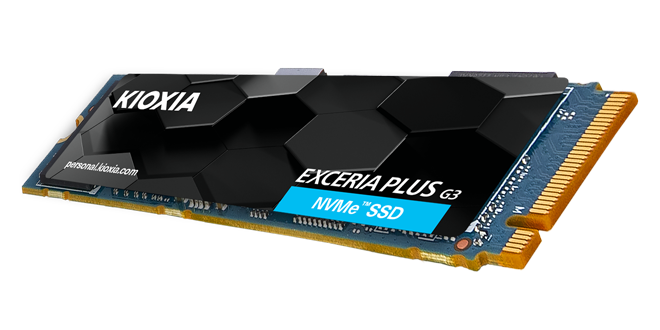 Kioxia, , a world leader in memory solutions, today announced the launch of the EXCERIA PLUS G3 NVMeTM Series, scheduled to be released on September 25. 
The EXCERIA PLUS G3 Series is excellent for mainstream desktops and notebooks that support the latest PCIe® 4.0 standard. 
Please follow the link for more details of the EXCERIA PLUS G3 Series
https://apac.kioxia.com/en-apac/personal/ssd/exceria-plus-g3-nvme-ssd.html
*Information in this document, including specifications, content of services and contact information, is correct on the date of the announcement but is subject to change without prior notice.
About Kioxia

Kioxia is a world leader in memory solutions, dedicated to the development, production and sale of flash memory and solid-state drives (SSDs). In April 2017, its predecessor Toshiba Memory was spun off from Toshiba Corporation, the company that invented NAND flash memory in 1987. Kioxia is committed to uplifting the world with "memory" by offering products, services and systems that create choice for customers and memory-based value for society. Kioxia's innovative 3D flash memory technology, BiCS FLASH™, is shaping the future of storage in high-density applications, including advanced smartphones, PCs, SSDs, automotive and data centers.
Customer Inquiries:
Kioxia Singapore Pte Ltd
Brand Sales Department
Contact Form