KIOXIA Launches High-Capacity 1TB MicroSD Memory Cards
Expand capacity lineup of EXCERIA G2 microSD memory card series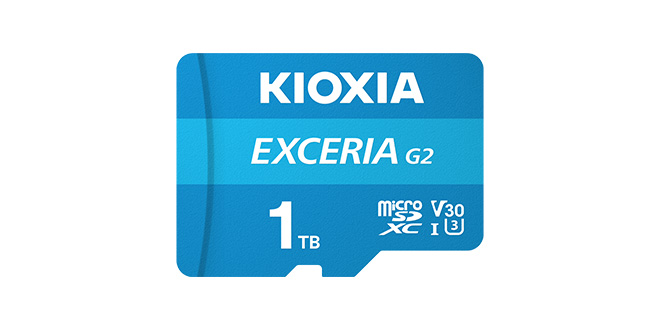 Kioxia Corporation, a world leader in memory solutions, today announced the addition of a new high-capacity 1TB option to the EXCERIA G2 microSD memory card series. The new 1TB product will be available in November 2023.
The EXCERIA G2 microSD memory cards now offer capacities up to 1TB providing more storage for your games, pictures, songs and videos. Up to 1,258 minutes[1] of recording time is possible using 4K (100Mbps) video. Alternatively, up to 154,070 (18MPixel) photos[2] can be stored.
To get more information on the KIOXIA EXCERIA G2 microSD series go to:

https://apac.kioxia.com/en-apac/personal/micro-sd/exceria-g2.html
Notes
[1] Recording time: The actual recording time will vary depending on your device, resolution and compression ratio. Calculated as 1Mbps = 1,000,000 bps.
[2] Number of shots: Assuming a compression rate of 1/4. The number of shots that can be taken depends on the subject, shooting conditions, resolution, and compression ratio.
microSD memory cards are consumables and have a finite product life as represented by the number of write cycles and other parameters. The actual product life of a microSD memory card may be reduced, depending on usage conditions.
Capacity is based on installed flash memory and not user available memory as part of the memory is used for management functions. About usable capacity (available user area), please check each product page(1GB is calculated as 1,073,741,824 bytes). 
Company names, product names, and service names may be trademarks of third-party companies.  
Customer Inquiries:
Kioxia Singapore Pte Ltd
Brand Sales Department
Contact Form
Information in this document, including specifications, and contact information, is correct on the date of the announcement but is subject to change without prior notice.