UFS (Universal Flash Storage) for Consumer & Industrial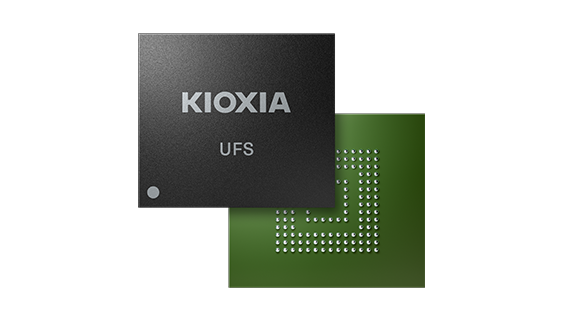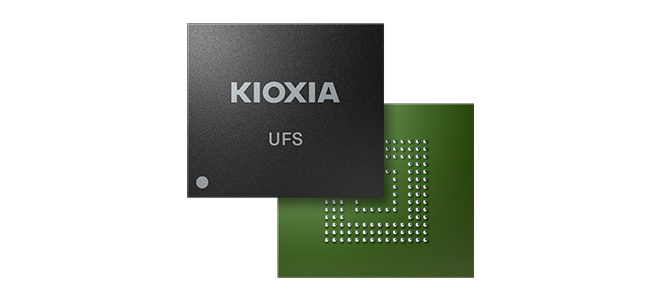 UFS: Boosting Performance in Demanding Applications
Designed to be the next-generation of higher performance embedded storage after e-MMC, KIOXIA's Universal Flash Storage (UFS) brings ultra high-speed read/write performance, low power consumption and quick application launch times demanded by a wide range of digital consumer products.
UFS has a serial interface, which reduces the number of signal pins, simplifying routing. It also supports full duplex operation, enabling simultaneous reading and writing between the host processor and the UFS device. This boosts overall system performance and improves the performance of mobile devices.
KIOXIA's UFS solutions are compliant with JEDEC/UFS Version 2.1/3.0/3.1, and integrate the company's BiCS FLASH™ 3D flash memory with a controller in a JEDEC-standard package.
Key Features of KIOXIA UFS (Universal Flash Storage)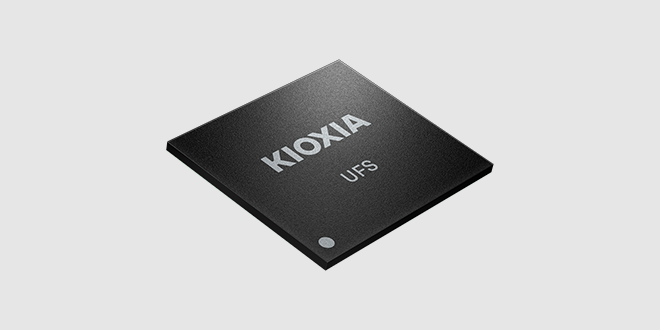 Serial Interface
High Speed Reads/Writes
Low pin count
32GB, 64GB, 128GB, 256GB, 512GB, 1TB
11 x 13mm and 11.5 x 13mm 153ball BGA package
JEDEC Standard
UFS 4.0 (UFS version 4.0)
UFS 4.0 offers lightning fast embedded storage transfer speeds allowing next-generation smartphones and mobile applications to take advantage of 5G mobile networks. UFS 4.0 incorporates MIPI M-PHY 5.0 High-Speed Gear 5 and UniPro2.0, and supports theoretical interface speeds of up to 23.2Gbps per lane or 46.4Gbps per device. UFS 4.0 is backward compatible with UFS 3.1 so existing platforms can use the latest generation of Flash Memory technology used in UFS 4.0, while incorporating all of the existing UFS 3.1 features.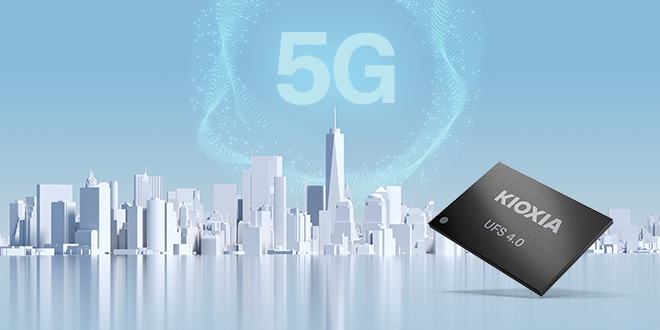 Sequential read and write performance of UFS 4.0 devices has improved by approximately 100 and 95 percent respectively, over previous generation devices. WriteBooster technology is incorporated to boost sequential write speeds for faster downloads, make high definition video recording storage quicker, and speed up mobile gaming.
UFS 4.0 supports a small 11x13x0.8mm* package for additional space savings in mobile applications, making handsets even smaller and sleeker.
Available in the UFS 4.0 lineups of 128GB and 256GB products
Two Types of Managed Flash by Bus Interface
KIOXIA offers UFS and e-MMC, a family of high-capacity Flash Memories with an integrated controller. These Flash Memory solutions provide ECC and other control functions that are optimized for each Flash Memory technology generation. UFS and e-MMC reduce the workload on the host processor, simplify product development, shorten time-to-market and increase ease of use memory products.
Compared to e-MMC, UFS Delivers:
A faster interface
Higher performance for reads and writes
Higher density options
Support for full duplexing
Better power efficiency
Management Feature includes Bad Block Management, Wear Leveling and Garbage Collection.
KIOXIA UFS Key Technology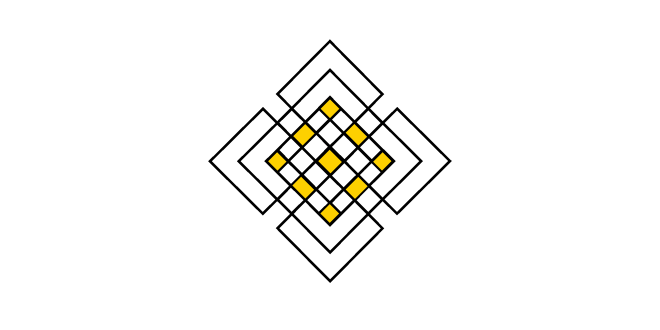 WriteBooster Functionality
WriteBooster enhances write performance by utilizing the existing user data area as a temporary SLC buffer without sacrificing capacity. Maximum SLC buffer size can be configured by the host at device configuration and the host can keep writing data to the buffer until the buffer is filled.
This feature is enabled dynamically during operation by the host depending on system performance requirements of 5G and other applications.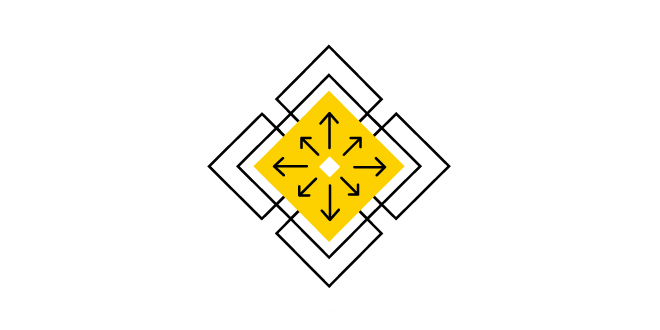 Host Performance Booster (HPB)
HPB Ver. 2.0 improves random read access performance by caching logical to physical translation tables (L2P table) from the device to the host side memory, and the host can initiate read operation along with L2P table so the device can simply read out data from the physical address provided by the host.
This feature can enhance random read access over wide-range addresses, which usually results in a performance drop due to multiple table updates in the device.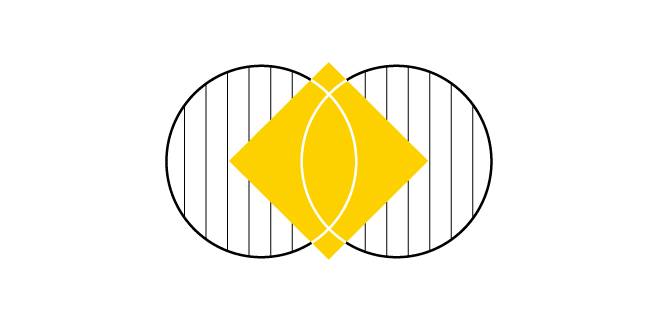 KIOXIA UFS utilizes high-performance BiCS FLASH™ 3D flash memory technology to optimize performance.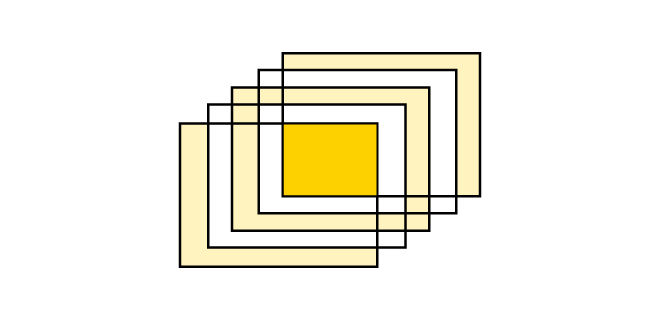 Density Range and Packaging
UFS devices are available in densities up to 1TB* in a range of package sizes. UFS meets the demands of applications that store large amounts of data, pictures and video.
KIOXIA UFS Key Applications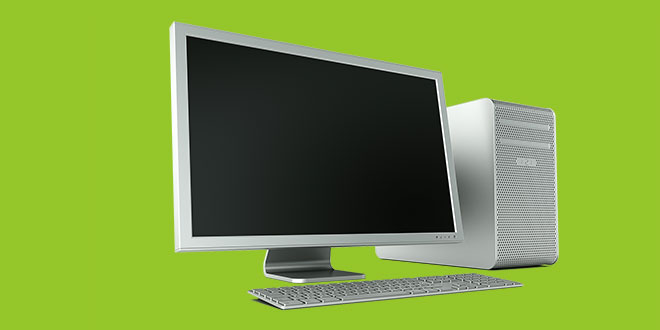 Notebook / Ultrabook™ / Tablet / Desktop PC / Gaming PC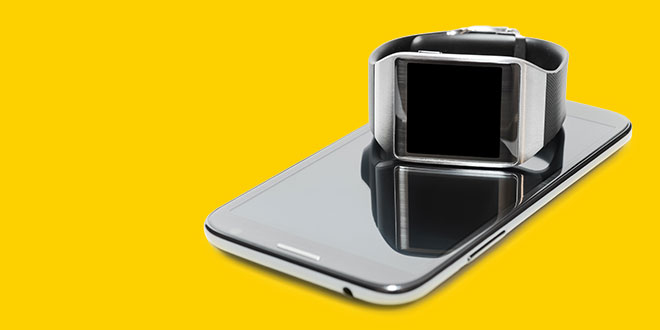 Smartphone / Smartwatch / Smart glasses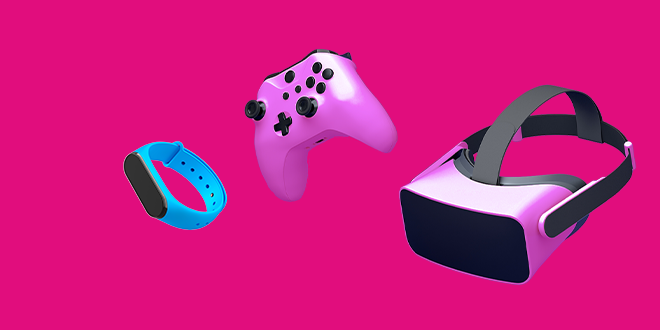 Game console / Smart TV / Virtual Reality Headsets / Set-Top-Box/Digital Video Recorder / Smart speaker / Smart home / Wearables / Home Health / Home Network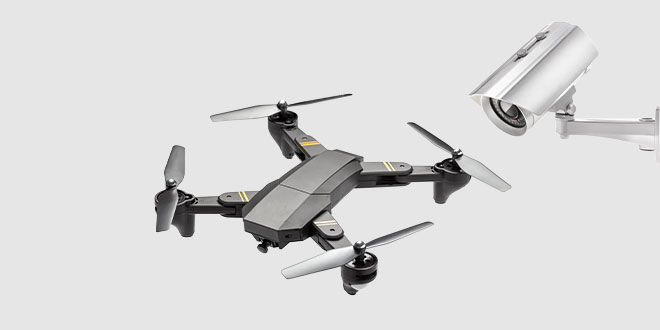 Automation / Digital Healthcare / Transportation / Surveillance / Robot / Drone / Security / Digital Signage / Networking (5G area network) / PoS (Point of Sales)
*Table can be scrolled horizontally.
Capacity
Part Number
UFS
Version
Max Data
Rate
(MB/s)
Supply Voltage
Operating
Temperature
(℃)
Package Size
(mm)
VCC
(V)
VCCQ
(V)
VCCQ2
(V)
32GB
THGAF8G8T23BAIL
2.1
1160
2.7 to 3.6
- (1)
1.70 to 1.95
-25 to 85
11.5x13.0x0.8
64GB
THGAF8G9T43BAIR
11.5x13.0x1.0
128GB
THGJFAT0T44BAIL
3.1
2320
2.4 to 2.7,
2.7 to 3.6
1.14 to 1.26
- (2)
-25 to 85
11.5x13.0x0.8
256GB
THGJFAT1T84BAIR
11.5x13.0x1.0
256GB
THGJFGT1E45BAIP
11.0x13.0x0.8
512GB
THGJFAT2T84BAIR
11.5x13.0x1.0
512GB
THGJFGT2T85BAIU
11.0x13.0x1.0
1TB
THGJFHT3TB4BAIG
11.5x13.0x1.2
128GB
THGJFJT0E25BAIP
4.0
4640
2.4 to 2.7
1.14 to 1.26
- (2)
-25 to 85
11.0x13.0x0.8
256GB
THGJFJT1E45BATP
11.0x13.0x0.8
512GB
THGJFJT2T85BAT0
11.0x13.0x0.95
This product supports dual-supply operation at VCC and VCCQ2. VCCQ need not be supplied.
This product supports dual-supply operation at VCC and VCCQ. VCCQ2 need not be supplied.

Please contact us if you have any technical questions, requests for materials, are interested in samples or purchases of business products (Memory, SSD), etc.