E3 - Enterprise Servers and Storage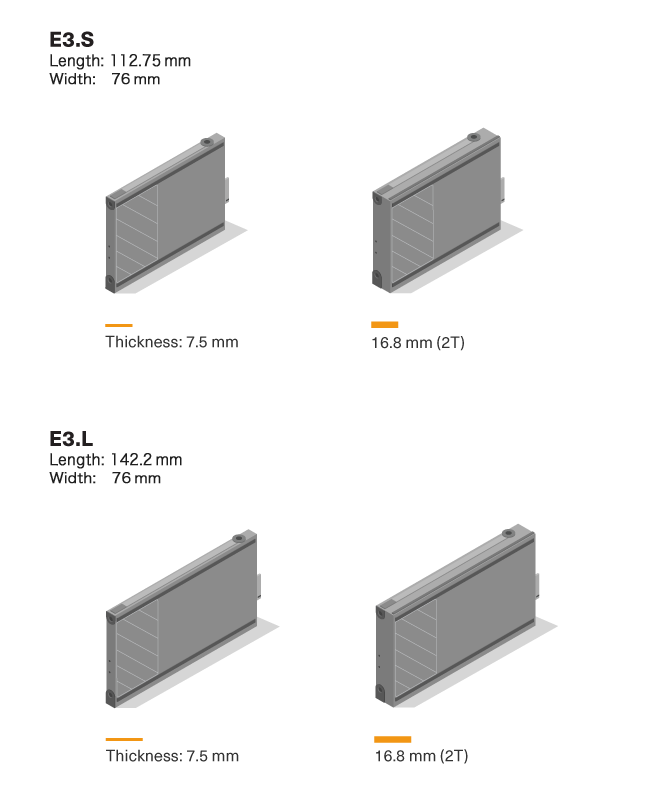 Type
Width (Thickness)
(mm)
Length
(mm)
Height
(mm)
Max Power
(W)
E3.S
7.5
112.75
76
25
E3.S 2T
16.8
40
E3.L
7.5
142.2
E3.L 2T
16.8
70
PCIe® Lanes per Connector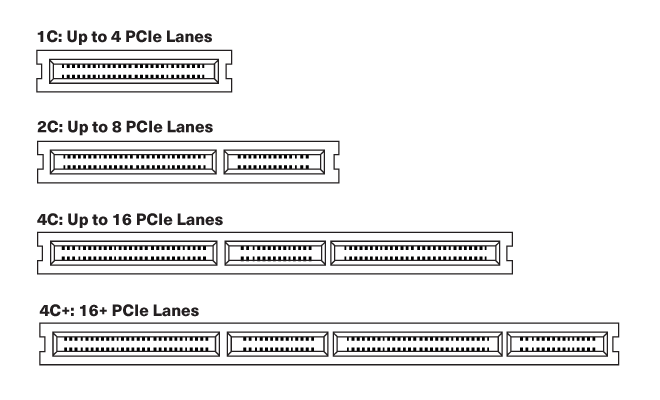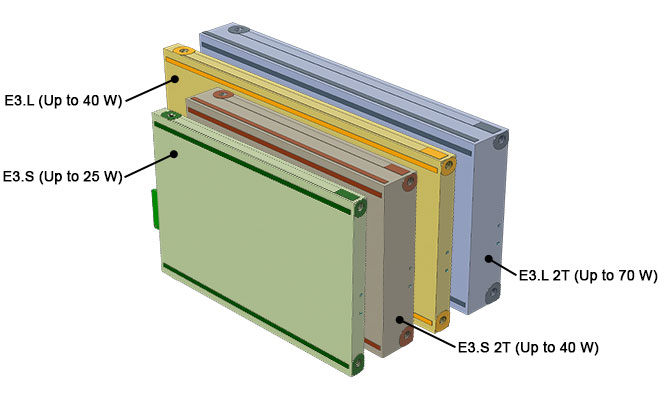 KIOXIA EDSFF E3 Offerings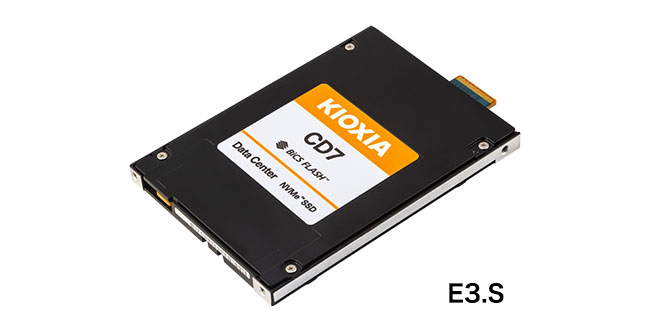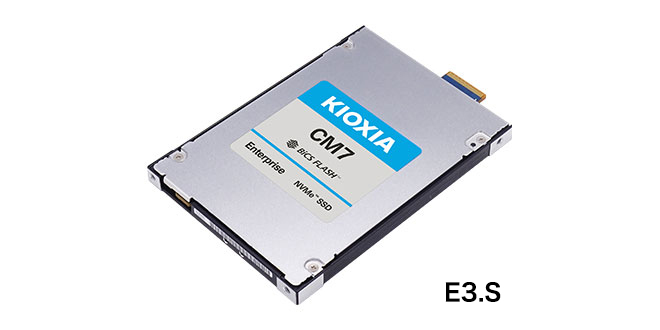 KIOXIA SSD Series
Form Factor
Endurance
Interface
Storage Capacity
(GB)
Sequential Read/Write
(MB/s)
Random Read/Write
(IOPS)
CD7-R
EDSFF E3.S
Read Intensive
(1 DWPD for 5 years)
Designed to
PCIe® 5.0
and NVMe™ 1.4 
specifications 
1,920
3,840
7,680
Up to
6,450/5,600
Up to
1.05M/180K
CM7-R
Read Intensive
(1 DWPD for 5 years)
PCIe® 5.0,
NVMe™ 2.0 
1,920
3,840
7,680
15,360
TBD
TBD
CM7-V
Mixed-Use
(3 DWPD for 5 years) 
1,600
3,200
6,400
12,800
TBD
Which Companies Will Offer E3-enabled Products?
While E3 form factors began with a focus on traditional enterprise server and storage use cases, hyperscalers are evaluating E3 for use in scale-out environments. Many server, storage and SSD companies with 2.5-inch storage solutions are aligned with the E3 Family. Vendors currently working on the SFF-TA-1002 and SFF-TA-1008 specifications include Dell EMC®, HPE, KIOXIA and many others. Initial development and demonstration systems in support of the E3 Family of form factors are well underway with early full function development vehicles as shown (Figure 1).

Figure 1: EDSFF prototype with KIOXIA E3.S Prototype NVMe SSDs
PCIe is a registered trademark of PCI-SIG.
NVMe is a registered or unregistered mark of NVM Express, Inc. in the United States and other countries.
All other company names, product names and service names may be trademarks of their respective companies.
All rights reserved. Information, including product specifications, content of services, and contact information is believed to be accurate as of March, 2023, but is subject to change without prior notice. Technical and application information contained here is subject to the most recent applicable KIOXIA product specifications.